Pileup Runner 1.4
Pileup simulator for Windows 95/98/ME/NT4/2000/XP/Vista/7-32bit/7-64bit.
This program is for the existing and future DX-pedition operators, and for those who are curious how it feels to manage a pileup.
FREEWARE
Be sure to read User's Manual before you start using the program! This will save you a lot of time and furstration.

Download Pileup Runner

User's Manual

High Scores Online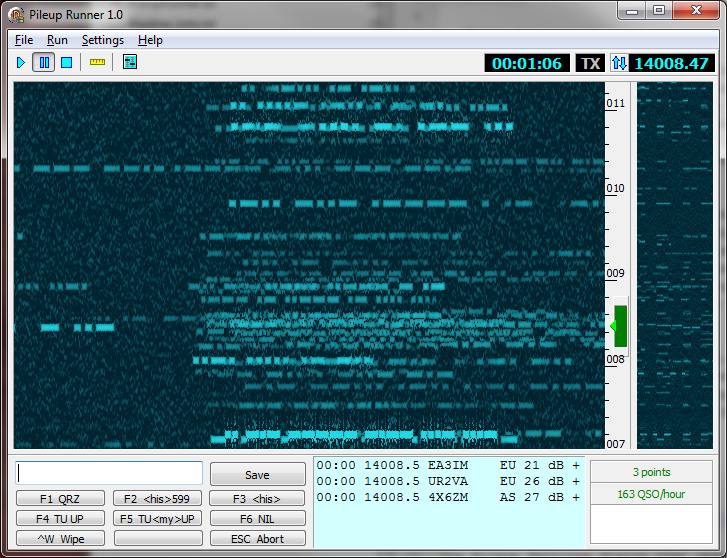 Pileup Runner
Frequently Asked Questions
Q: Why do the PgUp/PgDwn keys tune the receiver in so large steps?
A: The PgUp/PgDn commands are not for tuning the receiver, they are for scrolling the waterfall display one screen up and down. To tune the receiver, simply click on the waterfall display with your mouse.
Q: Why doesn't the program have any keyboard commands to tune the radio up and down?
A: If you are missing the tune up and down commands, then you have not grasped the concept of visual pileup management yet. Once you do, you will not want to "tune by" some step, you will want to "tune at" some signal in the waterfall. After you learn to "read" the waterfall display, you will at least double your score. The best scores in the online table are well over 100, those were posted by the people who know how to make use of the waterfall display.
Q: I have learned to work the pileups visually. Can I use my new skills in a real DX-pedition?
A: Of course, you can. Pileup Runner has the same waterfall display, navigation commands and even the audio DSP processing chain as CW Skimmer. Just get an IF adapter for your radio, and install the Skimmer on your expedition notebook.