http://dxpedition.be/Benin.html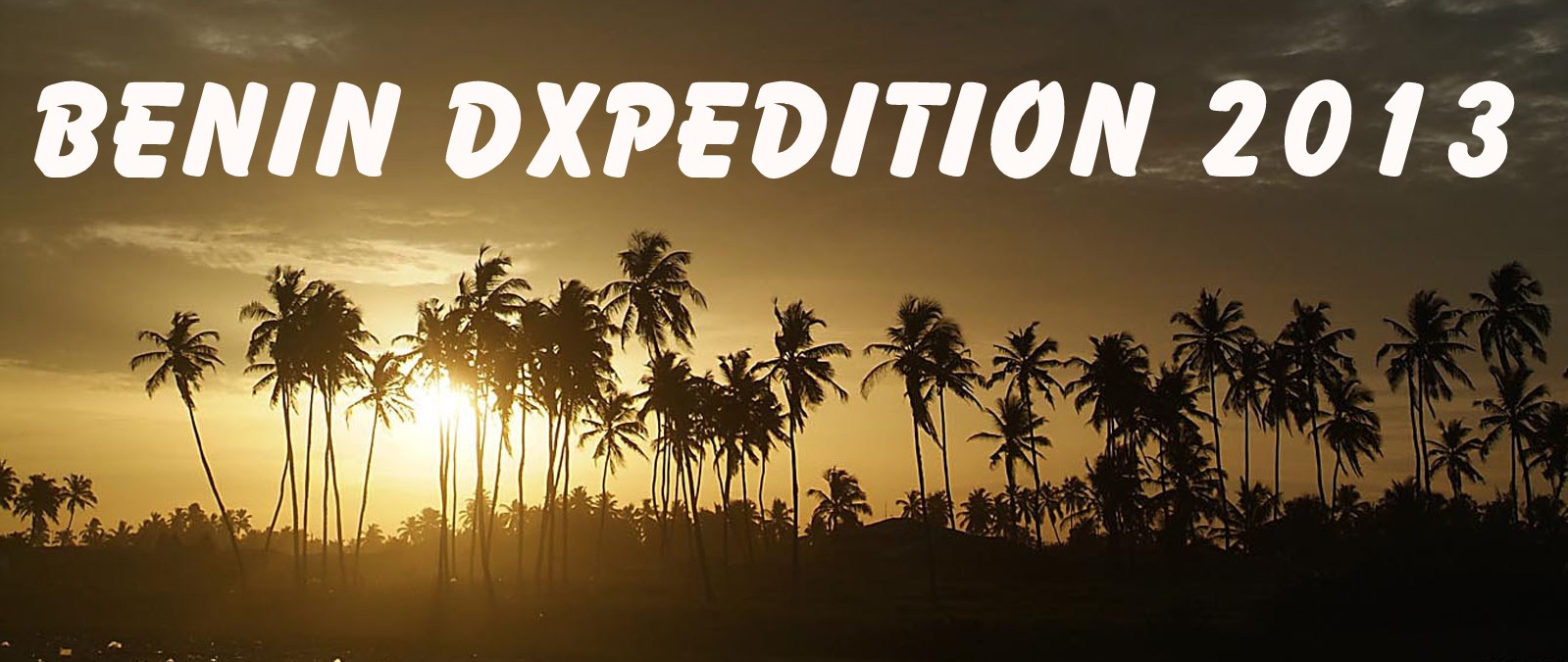 News (10 oktober/2013) :
Plans are; shortly after i arrive in Togo 19/nov/2013, i go to Benin by taxi+guide to collect my TY1 callsign papers, wich seems to be ready. One problem is that the ATRPT did not want to give the license and callsign papers to my African contact person. I have to go myself.
Could be they need some extra information or $
I found a nice QTH in Benin to put up my antenna's and shack.
When everthing is sorted out (callsign,license ), i start with my TY dxpedition, and move from myr Togo qth to a new qth in Benin to start my TY dx-pedition.
if everthing is going according my plans, i will be in Benin from 21 november untill 3 december on 40/30/20/17/15/12/10/6 ssb/cw/rtty
Operator: Wim, ON6DX
QSL via: ON6DX
Equipment:
Icom IC-7000,
1/4 verticals with many ground radials for 30&40m,
MicroHAM Micro-Keyer RTTY-CW
Wintest logging program.
6-band SP7IDX Broadband hexbeam (G3TXQ design)


Operating Frequenties and Modes :
Important: in SSB, Please call me ONLY with the INTERNATIONAL SPELLING CODE
That means Alfa,bravo,chralie,delta,echo,foxtrot,golf,hotel,india,julliet,kilo,lima,mike,november,oscar,papa,etc..
This is much easier to copy for me in the pile up !
SUPPORT:
Managing a dxpedition to Benin is a expensive thing to do for me.
I travel with my XYL and she also has to carry lots of equipment.
Alone it is almost not possible to take al these antenna's,liniar,2x50m coax,pwr supply,trx,micro keyer, laptops,6m supporting mast etc.
Especially for the extra-suitcases costs, extra traveling coast from Togo to Benin and back to obain the callsign taking the extra's of my budget.
Every single donation permits to carry a better setup.
Please feel free, but think about support the effort!
Thanks for the support.